Route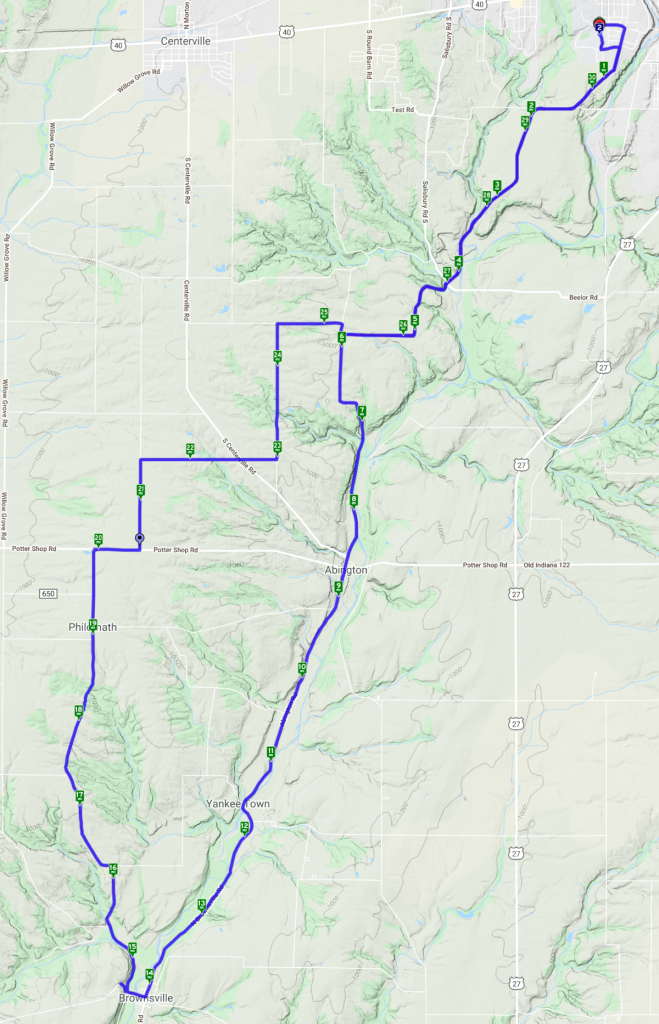 Initially I set off with the idea of going south to Brownsville, then west to Springersville & then north. But having got to Brownsville and cycled half way up the hill going west out of the valley I realised that there was a huge, nasty cloud coming in from the south-west. I had set off without my camera but also without a coat. Also, I had got caught in the rain on a Brownsville run a couple of months previously and I didn't want to get soaked again. I turned back down the hill and figured that going north via Philomath would be easiest. This was probably not the better choice — it was much flatter and 1 mile less distance to retrace my steps via Abington. Nevertheless, I hurried along Philomath — the road is in a bad state — east on Pottershop and north on Merkamp. The first right is Smoker going east which I dashed along and then after crossing Centerville, north (left) on Meek which goes up & down. A couple of dogs threatened to come out but the rain cloud was spitting.
By the time I hit Leadline to turn east the rain had started and having doglegged onto Abington Pike going east I was running fast with the wind behind me and driving horizontal rain. Turning the corner to go north, the wind whacked the bike, the front wheel wobbled alarmingly and I thought that I might get blown into the adjacent field. By this time I had my rear light flashing but I could see very little. A steep dip in the road followed quickly and I gingerly descended with squealing brakes. at the top of the rise I realised that my sunglasses were causing the trouble, so I took them off but they fell out of the back pocket. A couple of trucks had already passed me and another one splashed by adding to the torment. More squealing brakes and wobbly front wheel going down the steep hill to Beelor road intersection.
Then I had to toil up the hill out of the valley, and more wheel wobbling worries as I turned the bend into the westerly wind. But I stayed upright — just — and with the rain & wind stinging my flesh I decided to take a shortcut west along Earlham Drive and then through an alleyway to College Avenue. Nearly home I thought. But more was to come; no sooner had I brushed aside an overhanging branch in the alley than I collided with another projecting branch (it was really dark at this point & I had no front light) and I tipped over into the bush! But no real harm done and I quickly remounted to cruise home and soak in a hot shower!
Even though I was only in the rain for 25 minutes or so it was not a pleasant experience. I resolved to take my waterproof with me on late afternoon rides!
Statistics
| Statistic | Value |
| --- | --- |
| Time started | 5:47pm |
| Ride time (hh:mm) | 1:36 |
| Stopped time (hh:mm) | 13:53 |
| Distance (miles) | 24.77* |
| Av. speed (mph) | 15.5 |
| Fastest speed (mph) | 24.8 |
| Ascent (ft) | 409 |
| Descent (ft) | 417 |
| Energy burn (Cal) | 1221 |
| weather | value |
| --- | --- |
| Temperature (C) | 26C |
| Wind | 10mph S & SW |
| Humidity | 61% |
Speed — Blue, Elevation —

Green

(x-axis – miles)