Dear Family member / friend,
William & Erin's wedding
The big deal of the year was son William's marriage to long-time live-in girlfriend Erin (Daniels) on the day after his birthday, June 12th. Erin has a lot of experience with organizing wedding operations (she should, because she does this for a living) and so we just thrust a cheque William's way and let them get on with all the arrangements. Erica & I descended to Columbus, OH, the prior afternoon and had a jolly old family nosh at a local pub. The wedding & reception was at a building downtown and they hired a professional photographer whose photographs were a cut above anything I could have done. Since Erin's family was local to Columbus most all of her tribe were there – which made it a real family do – and Will invited Erica's brothers both of whom appeared together with some cousins. But unfortunately, the C-curse prevented UK relatives from attending. Then they took a honeymoon to Mexico in November during the off season and that went well; now they're focusing on starting a family – HURRAH!
Erica and I spent a few days at the end of June on our annual hiking holiday, this time to the Indiana Doones (Dunes) right at the south end of Lake Michigan. It's one of these bizarre locations that are not uncommon in the States where a smallish area of natural habitat is surrounded by urbanization and, in this case, heavy industry. Thus, the State and National parks are sandwiched between huge areas of Steel Works and Coal fired Power Station. But it was possible to ramble over the trails and get lost climbing the ancient dunes, walk along wooden boardwalks over extensive marsh habitats, and marvel at the astonishing variety of ecological niches present.
As everywhere in the universe it seems, the curse of the 'disease-that-must-not-be-mentioned' (DMNM) has affected our lives. In late February we dutifully got 'shot' with our Pfizer vaccines (and not 'jabbed') and six months later boostered with the same stuff.
Having faffed for two or three years over roof replacement we finally obtained a couple of quotes and at the end of March during a sunny but cool week the roofing team ascended. Rather than stripping off the old roof (which had been installed in '97 with the extension – so about 23 years) over the whole area, they tackled a section at a time, stripping down an area they could reinstall in a day's work. So, at no time was the roof bare and open to the elements. And in the space of 5 days the team of 4 guys completely reroofed a considerable area – job well done & now out of the way for another 20 or so years.
On the cycling front, this year has been somewhat limp; my creaking knees combined with a soaking summer has conspired to put the mockers on regular cycling forays, added to which the inchoate threat of the DMNM was enough to cancel longer organized rides such as BikeTOURberfest. All of this has meant that my fitness has descended the W.C (ie gone down the toilet).
However, none of this has stopped me from 'shooting' (the nerd term for taking photos, not vaccinations). My hot seasons for photography are spring with blooming blossoms, autumn with vivid fall colours, and winter with snow scenes in black & white. Summer has little to commend it for local shooting opportunities unless I go on an overseas trip somewhere, but here again the DMNM has put paid to any thought of flying to exotic locations such as Basingstoke, Redland or Nempnett Thrubwell! However, I did get two photos into the juried Open Spaace art show at Minnetrista (Muncie) & two others into the Richmond Art Museum show.
Google Photos: Exhibitions 2021
I am glad to say that Erica has regained her 'mojo' this year; the roar of grease paint and the smell of the crowd catapulting her back onto the stage. She choreographed two songs for the Richmond Civic Theatre's production of the worldwide musical "All Together Now", and soloed in the same production the Abba song, 'Take a ch-ch-chance on me'. In addition, she runs monthly Improv workshops for trendy teens. She is also gainfully employed as a part-time library assistant in the Youth Services department of our local public Library (yes, they still exist in the USA) which boosts the family finances and enables hubby to do his hobbies unimpeded 😊.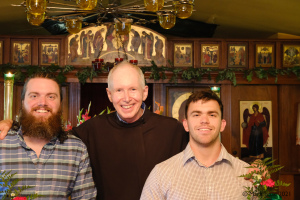 Church has continued to play a big part in my life. One of the wonderful advantages of retirement is the opportunity it gives me to attend Divine Liturgy at St Paul's twice a week. I also get to visit favourite monasteries; St John the Theologian in northern Ohio (where my spiritual father is located) and Holy Cross in the hills of West Virginia. I took my friends Paisios & Vitaly there at Pentecost; here we are in the chapel with me in my Reader's cassock.
the Ealy's
At Thursday's Divine Liturgy I have been serving at the altar which involves fueling the censer and giving it to the priest at exactly the right time. It's a new skill for me and it's taken me a few months to really get the hang of it but Fr Gregory has been really, really patient 😊. Our church is growing too in many different ways; we have lots of young people joining: in just the last quarter we've had 4 adult baptisms, 4 child baptisms, 3 families with newborns & another 4 families expecting. It's so refreshing to see so many young faces at church and the choir is sounding better than ever – now that I've stopped singing, hahaha.
Halloween at Will & Erin's
Daughter Megan & hubby Mike 'Sterner' are enjoying life in Camp Hill PA (suburb of Harrisburg). Tiring of intrusive bureaucracy and overbearing managerial incompetence Megan has switched to teaching maths full-time with an online organization. Thus far she seems to be enjoying the freedom to be able to teach. Will is also working from home (Columbus, OH); he has been kicked upstairs in the Huntington Bank hierarchy and is now doing home equity loan processing. When not staring at multiple monitors he takes the family canine Pepper for walks and ball retrieval, and also helps Erin's old man with theatre set building. I know that my father (sadly deceased these 33 years) and my mum (17 years gone) would have been really proud of both our children.
Erica's family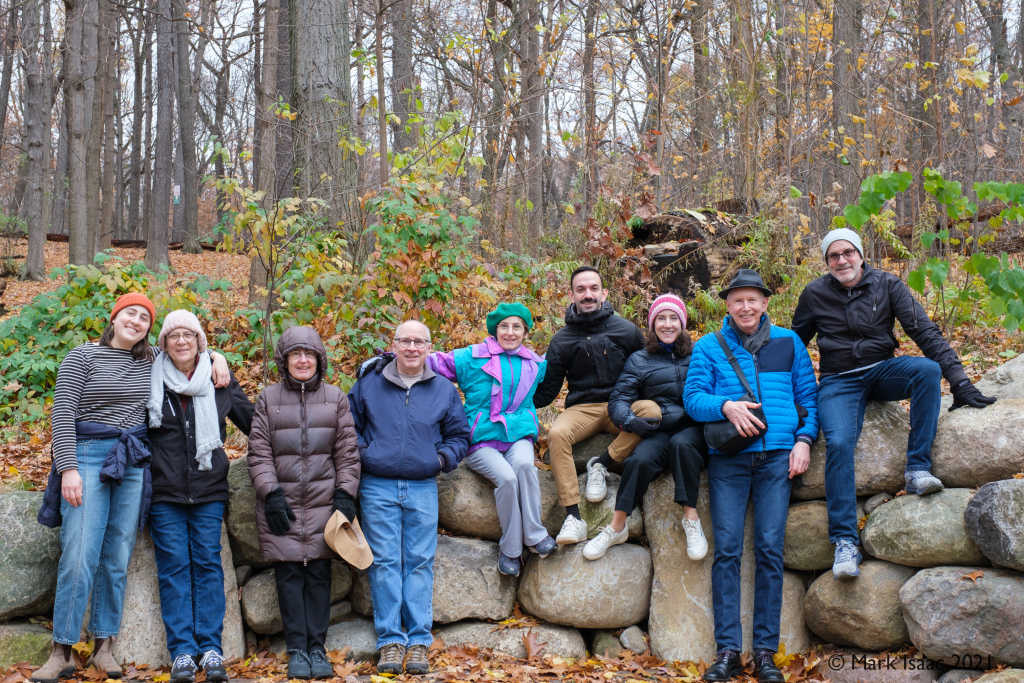 So from me, as they say in Wales, Nadolig Llawen and in Russia, Поздравляю с Рождеством!
Happy Christmas and Christ is Born!