A blessed Nativity of Christ to you & your family!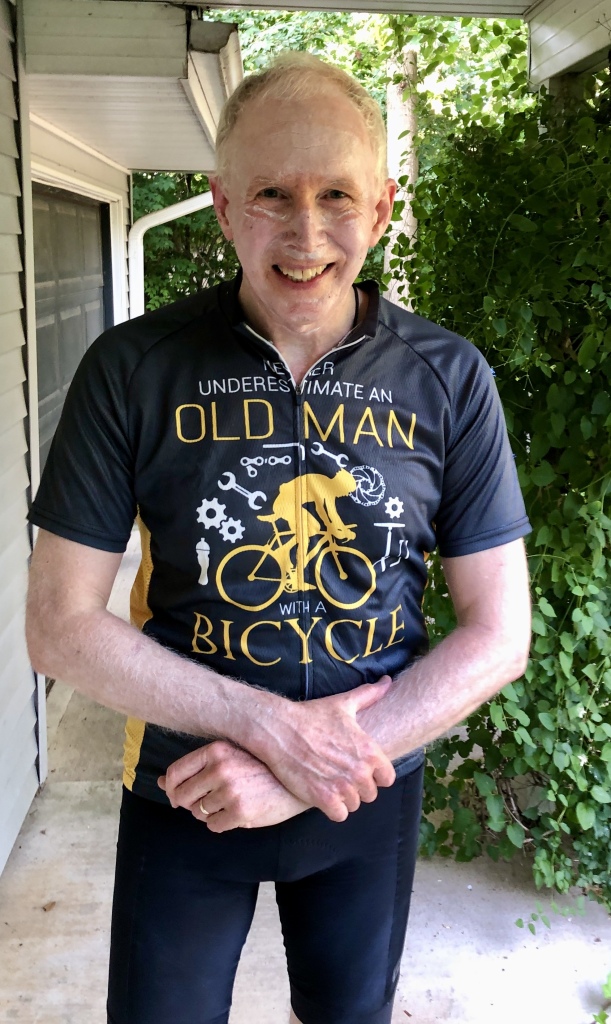 It's been a year of lows & highs for me this year, particularly in the health department. I'm getting OLD (three score years and ten on July 6 next year – cards welcome 😊) but "I'm not dead yet"! After a Salsa evening out with Erica in April (ie Latin Salsa dancing not Mexican salsa on burritos) I developed an excruciating sciatica in the right leg (totally misdiagnosed by the doctor ($100) but correctly diagnosed by the chiropractor [Elizabeth] (net $0)). This was 'cured' by dint of contracting COVID-19 in mid May and being laid up for two solid days of ultimate stomach and digestive grottyness. Having sort of recovered some degree of fitness I proceeded to address gutter cleaning and by dint of twisting on the rooftop to scoop leaves out of said gutters I managed to spark another bout of sciatica, this time in left leg. [Erica while pouring out buckets of empathy also added a bracing comment, reminiscent of Hermione Granger, "well it'll balance out your right leg, won't it"]. Fortunately I discovered a local chiropractor and she pummelled, poked, stretched, and dug into muscles I didn't know were attached, but which did leave me relatively pain free and able to claw my way back into a measure of cycle fitness. So much so that later in September I took on the long route for BiketourberFest ride (55 miles) and rode my fastest time yet.
Flying Cloud Vintage Ballroom week
The summer saw Erica and myself journeying down to Northern Kentucky University just south of the river in Cincinnati for a week long endurance test with the 'Flying Cloud Academy of Vintage Dance'. Every day there were several exhausting dance workshops and every evening a fully costumed ballroom dance each from a different era (Restoration, Rag Time, Regency, Bal Blanc, Victorian, Jazz) in a different ballroom venue (Flying Cloud Ballroom 2022). After the first day I opted out of all the workshops but 'Lindy Hop' and took advantage of the clear weather, at times not too humid, and the brutalist architecture of the university campus to take a series of photos: Buildings in the Sun and Shades and Yellow
Subsequently I was well chuffed to have one of these selected to hang in the Richmond offices of Three Rivers Credit Union (U.S version of Building Society) (Mondrian in Monochrome) [they paid me for the huge 3ft by 2ft print too!], and another one accepted into Richmond Art Museum autumn show – Combing the depths.
Catching up with the Kamonjoh brothers
Later in July I was selected from hundreds of applicants (not!) to attend the OCA's All American Council in Baltimore, Maryland. The hotel was ridiculously expensive, but the conference, which dragged on for too many days, gave an insight into the spiritual state of the clergy. However, I did get to meet some old mates from Earlham College, none other than two Kamonjoh brothers, Jimmy & Chris (photo) and we went out for a crab cake and chips supper – terrific!
Grandson's arrival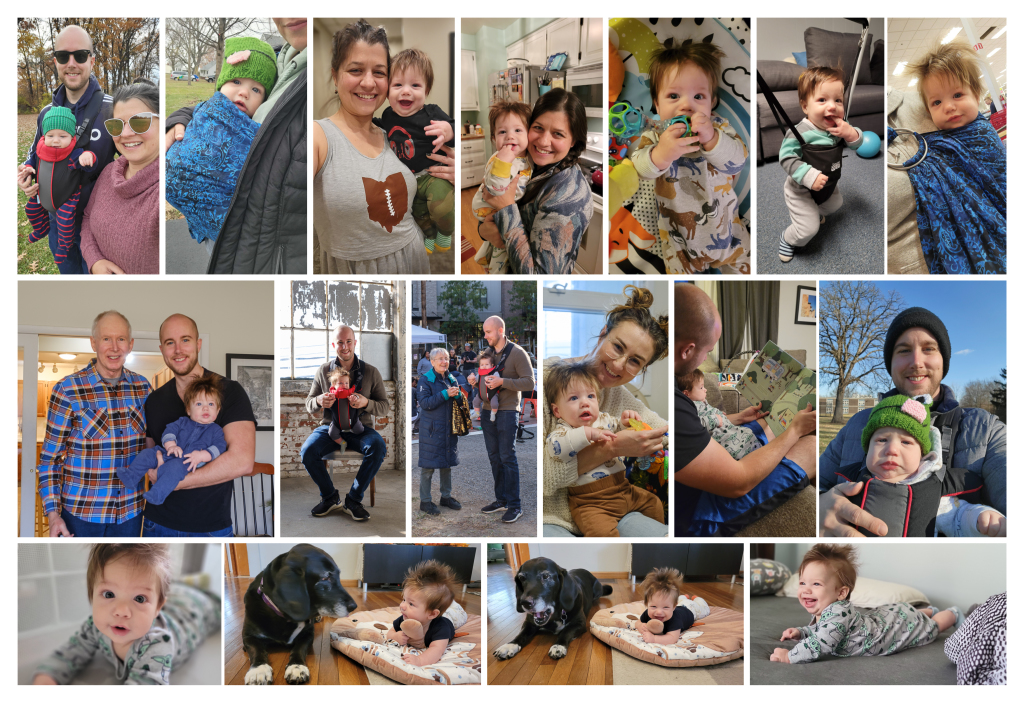 The BIG EVENT however was the birth of first grandchild, Victor Edwin Pearson, to Erin & son William in July. Erin has to be the most resilient young woman I have ever met; she went into labour on the Friday hoping to have the child at home (her mother is a very experienced midwife) but ended up having him by caesarean on Sunday (I lost count the number of hours in labour). The next day, Monday, Erica & I visited the parents and the sleeping Victor in hospital but far from being totally exhausted and whacked from her ordeal Erin was bright and cheery! Since then we've travelled over to Columbus several times to visit with them and, of course, we are well chuffed and spiffingly happy with our first grandchild who seems to be thriving and in the 101st percentile for height, weight, intelligence, and motor skills and above average in everything else 🙂 ; but he does suffer from F.O.M.O. – Fear Of Missing Out 🙂 – and insists to be held face outwards so that he can See What's Going On.
Church life and Monastery visits
Church life has continued to play an important part in my life (as with last year 😊. Some of the highlights have been a Liturgical music workshop in October which involved tackling Kievan chants and singing antiphonally, the All American Council (above), and a visit to St George's ROCOR church in Loveland, Cincinnati where Metropolitan Nicholas was visiting for the first time. I found this service and especially the homily delivered by the hierarch to be profound; here was a hierarch talking about the spiritual life without a script or notes and evidently from the heart. Impressive indeed. St Nicholas visited our parish of St Paul the Apostle once again this year. He was a few days late having arrived the Sunday after his name's day (December 6th), his excuse being "congestion on I-75" which convinced few people but evoked general mirth. Once again, I was absent for his visit and I wondered aloud if I might ever catch him. Photos are here:
Holy Cross
I was fortunate to be able to visit Holy Cross monastery three times during the year (with Fr Gregory in Feb, Joshua Sampson in mid July, and Douggie Royer in October). The latter visit was especially enjoyable as I was tasked with helping Fr D with baking Date Pistachio Panforte dessert cake in the bakery – yum!
St John the Theologian
Unfortunately, my visit to St John's in mid February with 3 other guys had to be cancelled at the last minute because of burst water pipes in the Guest House. But later in the summer I took Abramius & Vitaly there and we toiled away at path clearing through the dense forest undergrowth. More forest floor clearing was done when Vitaly and I visited in November. We got a couple of bonfires blazing and had a wonderful lunch of fish'n'chips cooked on the fire embers. Walleye delicious! It's always wonderful to visit St John's and this particular visit was spiritually especially enlightening for me.
Family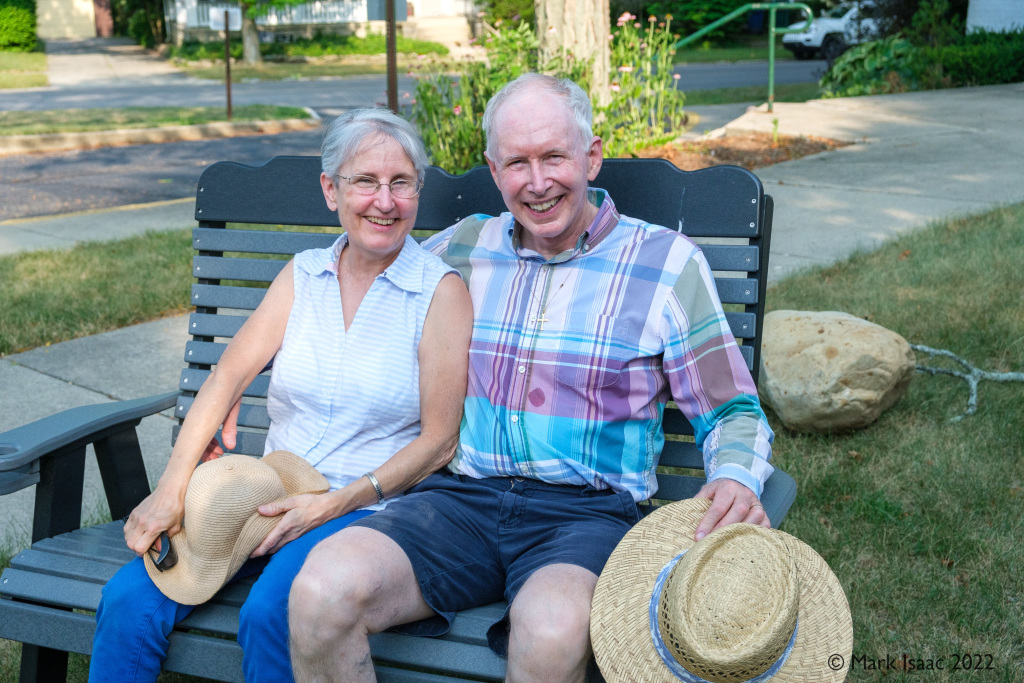 Erica has been involved with at least three 'book groups' which together with R.S.F (Richmond Shakespeare Festival) theatre work and her part-time Library employment on weekday afternoons has meant that her weekly schedule has assumed veritable Byzantine complexity with zoom meetings, morning walks, evening groups, long phone conversations, facetime, memos, reports, etc. It's a good job she's not still teaching! But we have had a number of fun events together, the Vintage Ballroom week in Kentucky (see above), nephew Nate & Diane's much postponed wedding celebration in Winchester VA at the end of May, and a number of fun woodland walks locally together.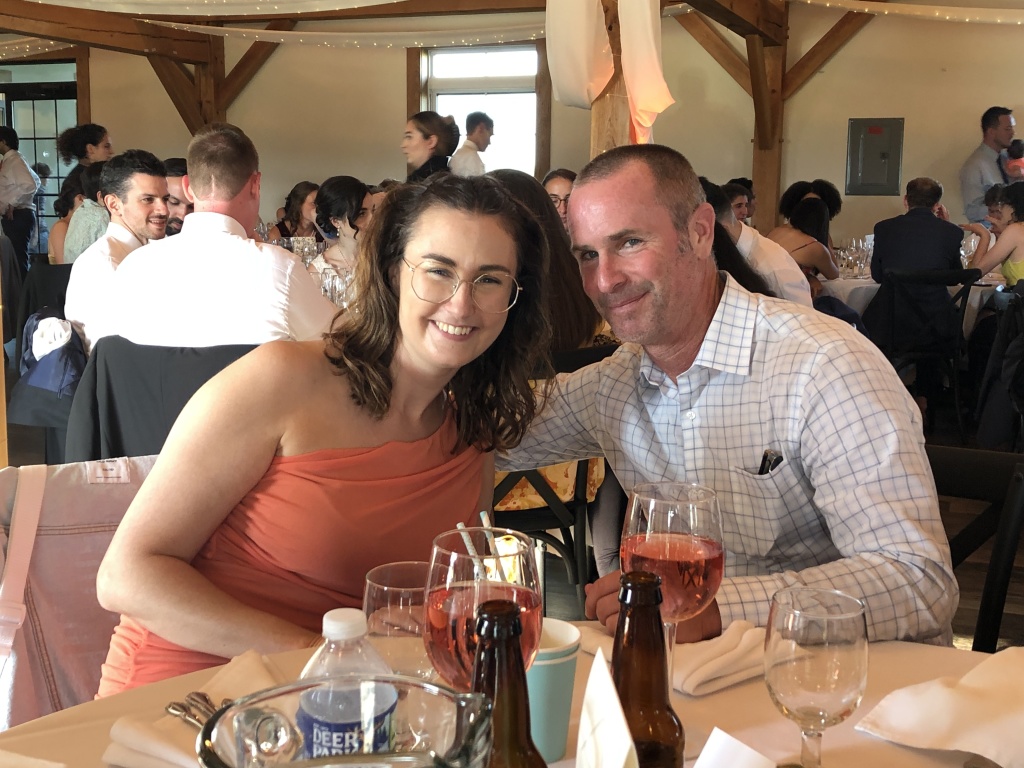 Here's #1 daughter Megan & hubby Michael at nephew Nate & Diane's wedding. This was shortly before the disco dancing commenced …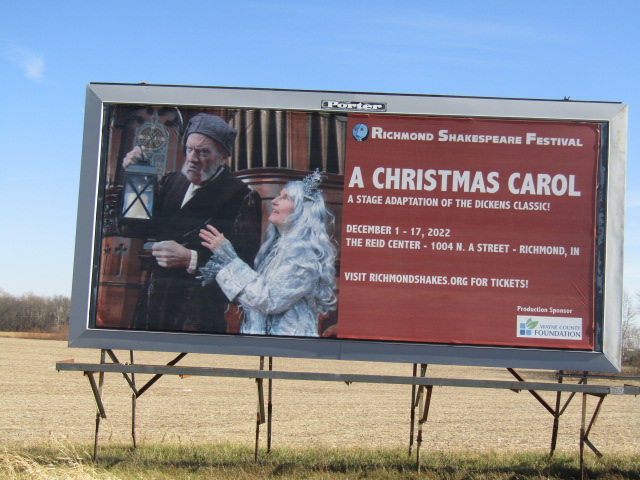 In the late summer, Erica was head hunted by the Artistic Director of R.S.F. to play the Ghost of Christmas Past in (what the) Dickens' Christmas Carol or, as the cast would persist in singing, "A Chrissmus Kerull" (but most of the english/cockney accents were OK and not too offensive to my sensibilities :-). This played for three weeks at a new venue – the Reid Center, formerly Reid Presbyterian church, described by the blurb with, "this repurposed venue features windows and other architectural elements designed by the renowned Louis Comfort Tiffany." Given the nature of the venue, with the massive pipe organ behind the 'stage' which precluded a traditional stage 'set', the acting company made up for the lack of visuals with their acting talents which conjured up the ambience of each scene in a highly engaging manner. Word of mouth news increased audience numbers over the run of the show; each performance seemed to build on the last so that the second time I watched the show it was even more alive than before.
Thanksgiving
November Thanksgiving was an opportunity to assemble the family chez nous en Richmond; Megan & Michael drove from Pennsylvania on the Wednesday to stay overnight as did Will & Erin from Columbus – their first long(ish) haul drive with the boy Victor, 'Chunk' – and they had a night out together in swinging downtown Richmond while 'Faja' (moi) looked after the young lad. He was sure that once the the nipper was put down to sleep he would not wake up until the morning. Wrong! The little tyke woke up in an unfamiliar room and made his presence felt; subsequent carries for a yardage of hundreds had this running back touring all the rooms in the house so that Chunky Boy could get to know his grandparent's domicile. Having achieved first down for several plays, Faja, now in the role of quarterback decided on a defensive nappy change followed by a special teams punt on feeding milk in bottle. Touchdown! The boy, now knackered from his kickoff returns, slumped in a milky hangover and retired from play back in his cot. PHEW! When the team manager and coach, Erin & William, returned from their sojourn at Smiley's they were well chuffed at the Team Captain's efforts :-). Erica's brother, Jonathan (Dr. Jon), his missis Elaine, and fave nephew Aaron arrived on Thanksgiving morning also from Columbus, OH, with welcome plates of variegated pies (or rather, "poize") and appetizers and instantly boosted the median I.Q. and entrepreneurial quotient of the group by 100%. Following the nutritious and delicious meal (mashed spuds especially great!) since I had no family photo image recorded during the totality of the year thus far I elected to capture a group photo of all the assembled throng by dint of a timed shutter press on my tripod supported camera firmly located on the road tarmac. Here it is: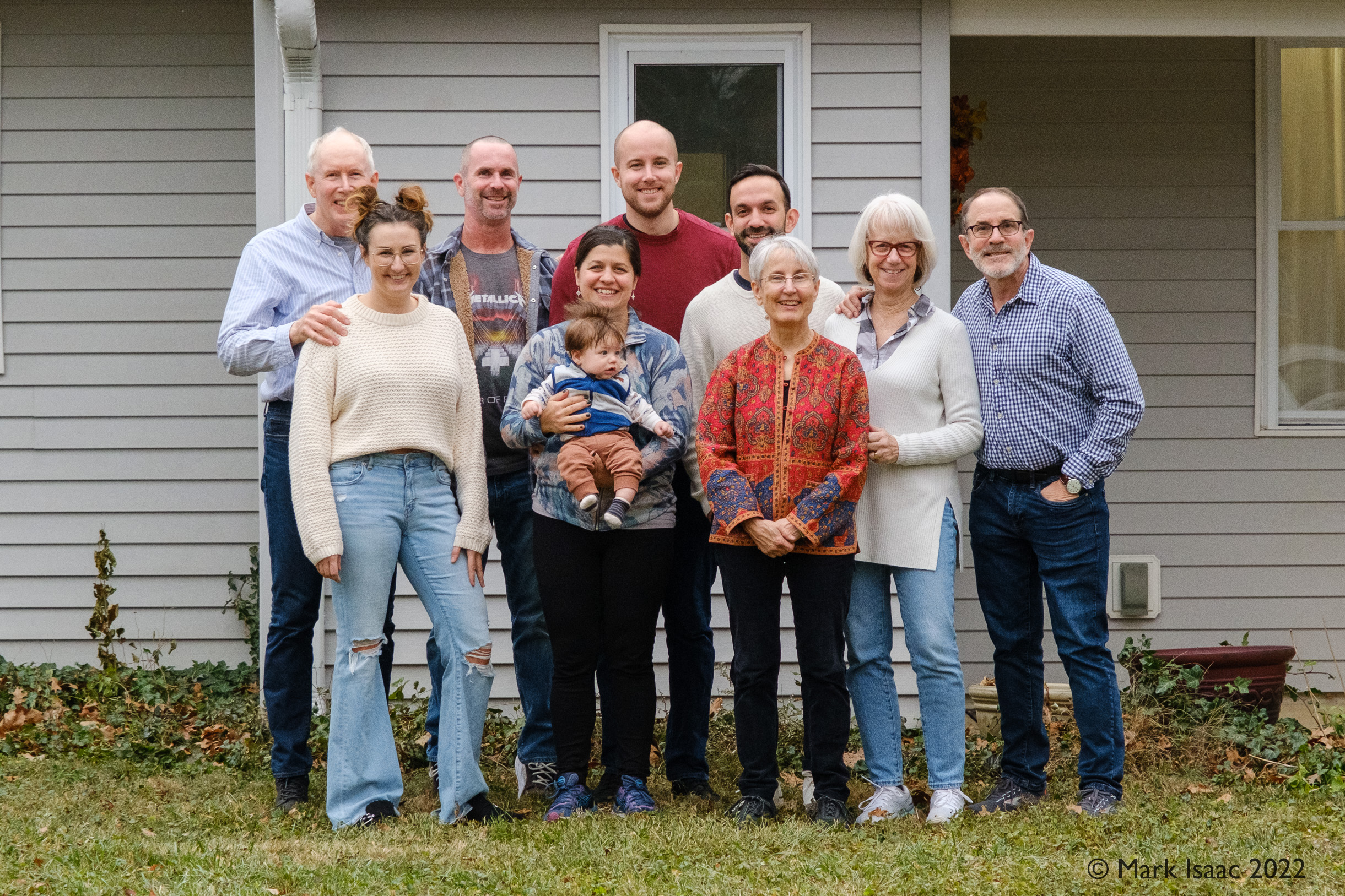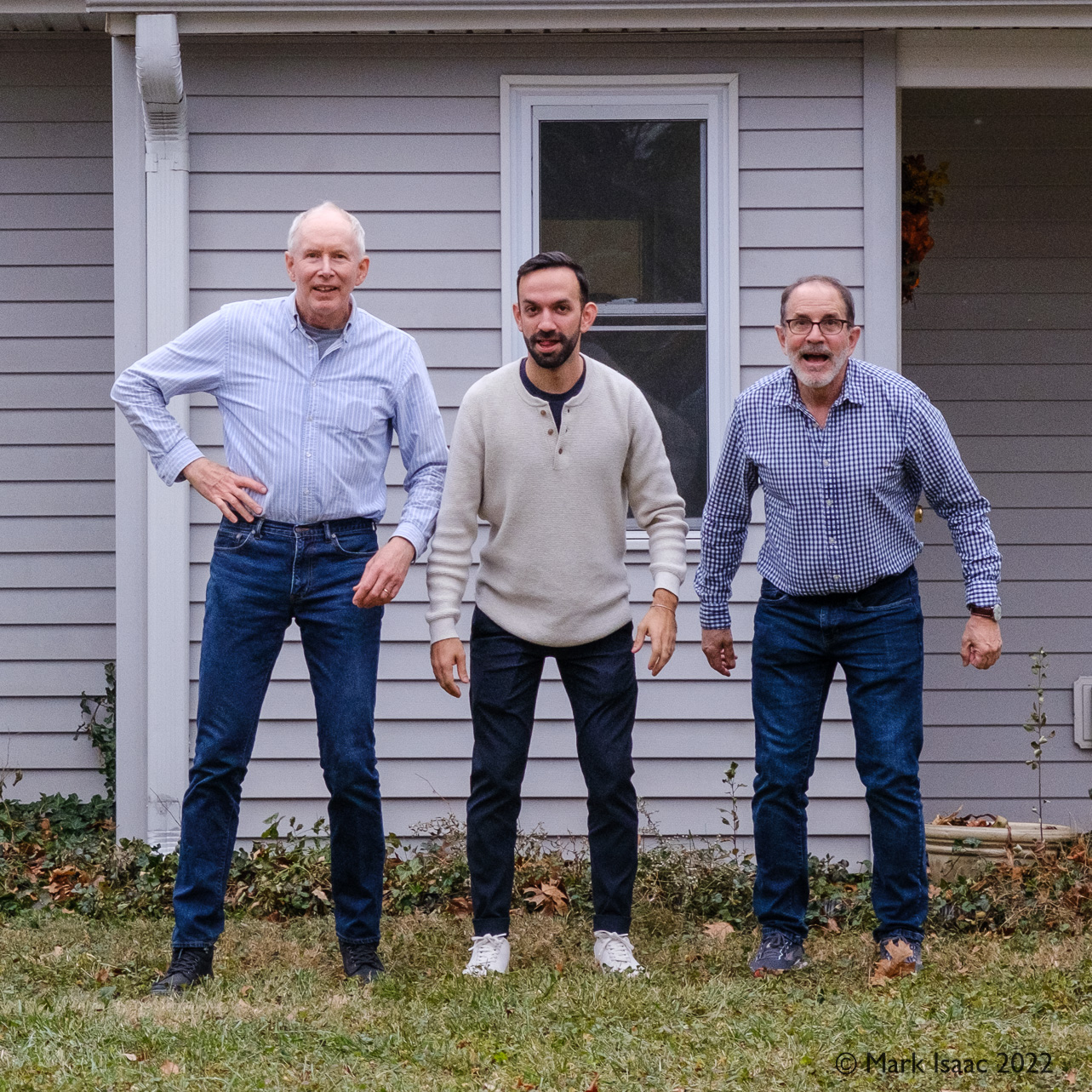 So, that's it from me in Hoosier Indiana for the year of Our Lord Twenty Twenty Two.