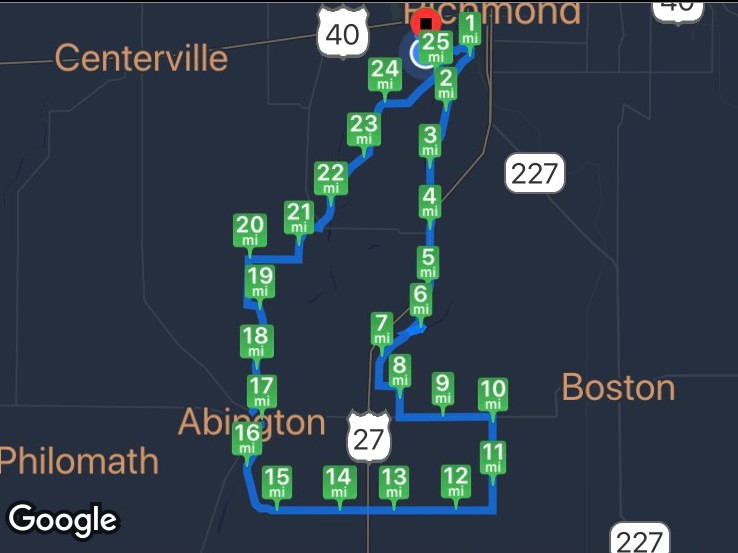 Route
Head out over G St bridge then south along old 27 (Liberty Ave) past Sanitary District and up hill past Steve Heiny's. Then along 27 and left to Esteb Rd then sharp left to Beeson. Drop off Artos bread at McLarnan's post box.
Back down Beeson, taking a look at Elkhorn Cemetery then south on Esteb Rd and up hill. Left (East) on Heinbaugh Rd, which turns at 90 degrees and then South to join Old Indiana 122 (Boston- Abington).
Turn left here east towards Boston. Then after a coouple of miles right turn (south) on Straightline Pike (County 200E). Here I stopped to take a number of cool photos. Carry on south until hitting E Mitchell, then turn west (into strong wind). Another set of good shots of trees along here. Time getting on, so scoot down westward for several miles until hit US 27. Cross this on West Mitchell and continue due west.
W Mitchell merges in to North Patterson Rd and proceeding along here takes us North (no surprise) and down into the river valley (east fork Whitewater River). Carry on north along River Rd until it terminates at Pottershop.
Sharp left, west, down Pottershop to Abington and then at the cross-road right (north) along Abington Pike , continue straight up the steep hill and normal route back home.
Stats
| | |
| --- | --- |
| Statistic | Value |
| Time started | 15:29 |
| Ride time (hh:mm) | 1:45 |
| Stopped time (hh:mm) | 0:43 |
| Distance (miles) | 25.86 |
| Av. speed (mph) | 14.76 |
| Fastest speed (mph) | 32.50 |
| Ascent (ft) | 595 |
| Descent (ft) | 609 |
| Energy burn (kJ) | 4792 |